What kind of city is Kumamoto?
Kumamoto University is located in the city Kumamoto, the capital of Kumamoto Prefecture. Kumamoto is in the island of Kyusyu, south of the main island of Honshu. Kumamoto-city is the third largest city in Kyushu,and is famous for its rich nature both inside and outside the city. Mt. Aso, a large, active volcano, attracts many visitors from both insideand outside Japan. The city of Kumamoto boasts a proud history, two famous and must-visit examples being Kumamoto-castle and the historical garden, Suizen-ji Joju-en (Suizenji Koen).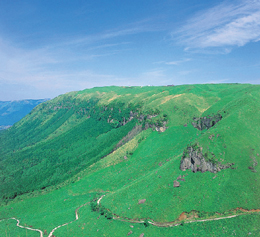 Climate in Kumamoto
The climate of the Kumamoto region is mostly warm and very comfortable for spending campus life. During the summer, the temperature can become very high, especially during the months of July and August, often climbing above 30 degrees Celsius. In winter, by contrast, you will need to dress warmly as. it gets very cold around January to February even though the city does not see much snow.Japan is famous for its rainy reason during summer (mostly in June), and Kumamoto is no exception. Kumamoto University maintains strict guidelines which call for the cancellation of classes due to excessive precipitation or due to other natural disturbances.
Transportation in Kumamoto
Kumamoto Airport is located approximately 30 minutes from the city center by bus. By airplane, Kumamoto is 1 hour and 30 minutes away from Tokyo. By an express train, it takes 1 hour and 20 minutes to get Fukuoka-City, from where you can easily visit anywhere in Japan by Shinkansen, the Super-express Train. It is very easy to go around Kumamoto City using its transit services which include streetcars, trains and buses. Students using bicycles will have no problem getting around the city.
Neighboring Area
Because of their safety, convenience and economical nature, most students choose to live in the neighboring areas around Kumamoto University. Kumamoto University has a cafeteria, serving student-friendly and reasonably priced dishes. Within the vicinity of the campus, you will find restaurants serving Japanese, Italian and Chinese cuisine, averaging around ¥500 for a meal.
Everyday Life
Compared with some of Japan's larger cities personal and living expenses in Kumamoto are relatively low. Kumamoto is a nice place for study, living and recreation. There are various movie theaters, concert venues, and shopping malls in the city and many activities are available to students as a respite from their studies.
Kumamoto University Events
Yu-sui-sai (Kumamoto University Festival)

This is a student-run festival, providing food stalls, entertainment, and art exhibitions. Each year many people, not only students but people of Kumamoto, come to enjoy this 3 day event.

Mt. Aso to Kumamoto Long-distance marathon/walk

Participants return from Mt. Aso to Kumamoto University beginning at midnight. The course runs 57 km for male participants and 35 km for female participants.
There are also many local festivals held inside and around the city which students are encouraged to actively encouraged to participate in.