Famous spot in Kumamoto
Kumamoto Castle
Originally built 400 years ago, Kumamoto Castle is one of the most famous tourist spots in Japan and is located at the heart of Kumamoto. After being seriously damaged,the castle has been rebuilt along the lines of the original structures and construction techniques.Considered one of the three most beautiful castles in Japan,Kumamoto Castle attracts many tourists from both inside and outside Japan with its magnificent exterior and accurate representations of a castle life from the feudal period.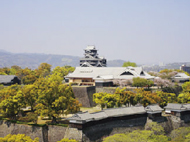 Mt. Aso
Mt. Aso, an active volcano with the world's largest caldera, is one of the symbols of Kumamoto.You can go close to the volcanic crater and experience the dynamism of Mother Nature during the periods when the volcano experiences activity.Annually, Kumamoto University holds a traditional sporting event in which participants walk from Mt. Aso to Kumamoto University.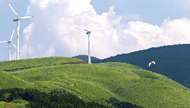 Amakusa
Amakusa is a beautiful sea town located on the coastline, surrounded by various sized islands.It is very famous for Dolphin watching.Amakusa welcomes many tourists with its delicious seafood and great nature.